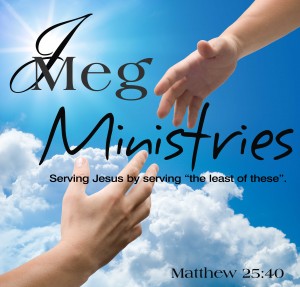 JMeg Ministries seeks to share the love of Jesus through evangelism, outreach, and missions.
Founded in November 2012, JMeg is the result of God's call on Dave and Dottie Jones.  Seeking to challenge the church to think outside its walls, while also reaching out to "the least of these", Dave and Dottie have stepped out in faith to share the love of Jesus.
You are invited to browse the site to find out more about the ministry of JMeg, and how you can be a part of this work that the Lord has started.
Click here to view and print a JMeg brochure.
Click here to learn more about Pastor Dave and Dottie.
Click here and request a copy of our monthly newsletter.
Prayer Requests
200 @ 10 Campaign (200 people giving $10/month)
$2000 A Month in Support (Currently at 3%)
Monthly Supporters – Individual, Church, and Corporate
The Booking of Speaking Dates
Provision of The Jeremiah House
The 501 (c) (3) Process
State Tax Exempt Status
Formation of the Ministry Team
A Shredder
Portable Sound System – Approximately $2500