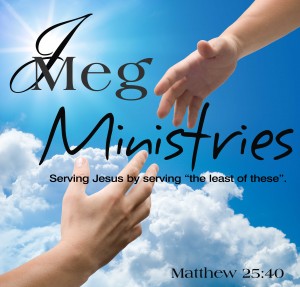 JMeg Ministries seeks to share the love of Jesus through the ministries of service and missions.
Founded in November 2012, JMeg is the result of God's call on Dave and Dottie Jones.  Seeking to take the church outside its walls, and reach out to "the least of these", Dave and Dottie have stepped out in faith to share the love of Jesus.
You are invited to browse the site to find out more about the ministry of JMeg, and how you can be a part of this work that the Lord has started.
*Check out the Community Resource Center to find out how you can support or participate in service opportunities.
Click here to learn more about Pastor Dave and Dottie.
Pastor Dave and Dottie Jones are available to come and share about JMeg Ministries at your church or community event.
Pastor Dave is also available to meet your conference, camp, or retreat speaking needs; and can provide special music.
From the pew:
His messages state it "like it is", and not what he "thinks his audience wants to hear". He is able to incorporate humor appropriately when used. David presents well when he speaks. Gets to the "heart of the matter". Is on fire for the Lord.
Ginny Campbell – Retired Nurse – Milton, PA
 "I have always appreciated Pastor Dave Jones' obviously sincere and completely Bible-based preaching, as well as the Bible references he gives so I can refresh my memory later."
Nancy Wesner – Educator – Milton, PA
 "With the skill of a master, Pastor Dave Jones makes the Word come alive; he is able to weave practical tools for living into his sermons making spiritual truths relevant for all ages."
Rev. Brian C. Johnson, College Professor, Bloomsburg University; Youth Pastor, Revival Tabernacle, Watsontown, PA
"Dave is a speaker that brings great passion and is truly inspiring in his delivery of the truth from God's Word."
Scott A. Bordner – Finance – Milton, PA
JMeg Ministries, Inc. is recognized as a 501(c)(3) charitable, non-profit corporation. JMeg Ministries, Inc. is not affiliated with any church.