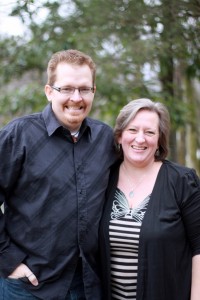 PASTOR DAVE – Matthew 19:29
Pastor Dave served in the U.S. Navy for 12 years; holds an A.A.S. Nursing-RN degree from Roane State Community College, a B.A. in Biblical Studies/Theology degree from Trinity College of the Bible, and received his M.Div. in Pastoral Preaching from Liberty Theological Seminary. He has served on the staff of local churches since 2001.
DOTTIE – Jeremiah 29:11
Dottie has successfully mothered 2 grown children, has received her B.S. in Religion and Biblical Counseling from Liberty University, is working on her Master in Family and Marriage Therapy Degree from Liberty University, and works as a caseworker for Children and Youth. She and Pastor Dave have been married for over 24 years.
Both Pastor Dave and Dottie claim a personal relationship with Jesus Christ, having accepted His finished work on the cross. They seek to share the love of Jesus, by serving others, and connecting people having needs, to the appropriate resources.
Pastor Dave and Dottie named JMeg after their two children, Meagan and JJ.